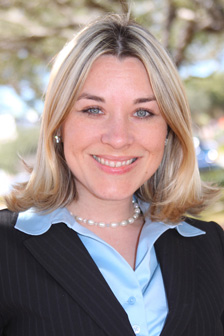 O
n sixth Street, Valarie Wadsworth and Lee Delieto often show their own home to potential buyers to promote the Gillespie Park neighborhood because Valarie is a Realtor dealing in residential properties. Lee works in the commercial real estate market.
"We bought our bungalow in 2010 and paid $120,000," said Lee. "When it came time to paint the outside, we wanted an elegant look, and what we selected was Porter Paint Stratosphere Blue for the base color of the house, Evening Hush Blue for the fascia and Snowstorm White for the trim. We started out with about 16 colors we liked and agonized over combinations until we got it right.
"At least Valarie did; she actually made the choices. Since Sixth Street is a heavily travelled street, connecting us to the Rosemary and Park East areas, we always get a lot of compliments about the paint while we're out in the front yard working."
The Delietos' Craftsman-style house is 1,500 square feet and was built in 1925. It's been historically designated by the City of Sarasota as the Robert & Emma Kennedy House. The Delietos bought their house on a short sale and moved from a place they owned on Seventh Street.
"We were specifically looking for a bigger home with a front porch, fireplace, a fairly large yard — and we wanted to be able to walk to amenities downtown," said Valarie, whose office is on St. Armands Circle. Lee can walk to his downtown office.
"In today's market I'd say that by fixing up these homes and creating a sense of community, we painted-ladies homeowners have increased the value of these properties by at least 30 percent."
The young couple restored the home's original heart pine floors. When they extended a vintage-looking new kitchen out into what was once a sleeping porch (beadboard ceiling) they wanted to match the existing flooring. They got lucky at Sarasota Architectural Salvage. The owner, Jesse White, had just rescued heart pine planks from a house being demolished in Fort Myers.
In the kitchen, the Delietos installed a hammered copper double sink and maple cabinets. A brick backsplash is consistent with the age of the home. The Delietos also upgraded the electrical system in the house and added vintage chandeliers throughout.
The two-bedroom, two-bath home has 10-foot ceilings and many practical built-ins that reflect its Craftsman architecture. The Delietos have furnished the house in transitional decor, with a big dining room table and lots of seating in the living room because they entertain frequently. Outside, their long-term goals are to build a two-car garage in the back yard, refine and expand their patio and finish their landscaping.
"We moved into this house on Christmas Day last year," said Lee. "So today is special for us. We've accomplished a lot, and it's so satisfying to look around the neighborhood and see how much progress we've all made in revitalizing a place that was wonderful many years ago and is wonderful once again."
Our picture was in the paper version but we got great press. 
Photo by Carla Varisco-Williams
Laura and Mark Andrews pose with Kirby the English springer spaniel at their Tangerine Dream home on 7th Street in Sarasota. Many vintage bungalows in the Gillespie Park area of town are sporting bright colors. It's a homeowners project to help revitalize the neighborhood and create a special look to the area. December 17, 2011; Photo by Carla Varisco-Williams
Dec 22, 2011
Taking their project name from seven stately and colorful Victorian hillside homes in San Francisco, a group of homeowners in the downtown Gillespie Park area of Sarasota are giving their neighborhood of vintage cottages a signature look by painting their homes in vivid tropical colors.
These traffic-stopping "painted ladies" are generally grouped on Sixth and Seventh streets, but the trend is spreading. You see colorful houses from 10th Street to Fruitville Road and from Orange Avenue to North Washington Boulevard.
Andrea and Mike Seager, who reside on Seventh Street, are credited with being in the vanguard of the trend.
"In our case, we chose paint colors by going to Kmart and picking intense colors designed for children's rooms," said Andrea. "Our house color is tree-frog green with bright yellow trim and periwinkle accents.
"We once took a tour group through the neighborhood, and a lady asked about our violent house colors. I hope she meant to say vibrant."
Mike Seager remembered how he discovered the neighborhood more than a decade ago. "I was working for a bail bondsman and was tracking down a fugitive in this part of town," he said. "Later, I came back to this neighborhood for a more leisurely look and saw a lot of potential in these little houses.
"Andrea and I had been looking to buy in Laurel Park for about a year, but the houses here were cheaper and the neighborhood had all the conveniences to downtown and the beaches. It didn't take us long to decide."
After the Seagers moved into their 1925 cottage in March 2000, they lifted and stabilized the 950-square-foot house, repaired the double-hung windows, patched the plaster walls, restored the original heart-pine floors and found vintage interior doors and glass door knobs. They also added a swimming pool to the back yard and a fence to the front. They are now in the process of landscaping the front yard.
Andrea said the various paint and homeowner restoration projects have never been an organized effort in Gillespie Park. "There is no homeowner's association to limit our creativity; that's why we live here," she continued. "The paint project is completely a labor of love. Realtors and prospective purchasers love the colors, and people driving down the street often stop to take photos."
Andrea estimates that the bungalow selling prices were between $60,000 and $200,000 when neighborhood people now painting their houses purchased them. Over the years and in partnership with Andrea's mother, the artist Margret Bering, the Seagers have acquired 11 vintage cottages on the street, which they have reclaimed and updated. They rent out the cottages.
"We have porch parties regularly, and we all look out for one another's property," said Mike. "This is a real neighborhood in every sense."
Laura Andrews, who lives on Seventh Street with her husband, Mark, can identify with homeowner's association rules.
"We had lived in a cookie-cutter neighborhood for many years with strict deed restrictions," she said. "When we were looking for a place to retire near downtown Sarasota, we fell in love with Gillespie Park for its eclectic, old Florida charm and proximity to downtown and the beaches."
They spent a year renovating their cottage — new windows, roof, walls and doors. They updated the two baths and constructed a new galley kitchen.
"When we finally arrived at the point to choose a paint color, we felt like we had realized our dream cottage," said Laura Andrews. "It became inevitable to paint our house the color orange and name it 'Tangerine Dream.'" There's a sign proclaiming the name near the front door that Laura's college friend painted for the homeowners. The handle on the front door is a turquoise starfish.
Mark Andrews did much of the interior renovation himself, with the couple's 22-year-old twin sons, when they moved into the 1,000-square-foot house in 2005. Outside, the homeowners added white Bermuda shutters, a white fence, wide brick pathways, turf and a stand of bamboo along with a bougainvillea-covered trellis. Mark mows his miniscule patch of grass with a battery-powered lawn mower. He keeps an herb and vegetable garden at the back of the house near the one-car detached garage, the brick patio and his hammock.
"We chose Gillespie Park because we wanted to be able to walk to downtown restaurants and movies and ride our bikes to the beach," said Mark. "We weren't looking for a big house — it's just the two of us and our dog, Kirby. We were looking for convenience, a casual lifestyle and a real sense of neighborhood. We found it." Laura's bike is painted pale yellow and decorated with tiny palm trees.
When they moved to Seventh Street in Gillespie Park nine years ago, Dale and Carmen Adcock said they were inspired by Mike and Andrea Seager and other homeowners who took such time and care with their homes and were determined to revitalize an old neighborhood. The Adcocks decided to furnish their 1,300-square-foot cottage in a vintage style, starting with a secretary that Dale's great-grandfather hand-crafted when he was a carpenter in Highland, N.Y. Other heritage pieces came from The Women's Exchange, Habitat Resale, Goodwill, Architectural Salvage and resale shops on Fruitville Road.
"We painted most things in a flat white distressed-finish and put white slipcovers on most of the upholstered furniture," said Carmen, "and although we updated and modernized the kitchens and baths, added crown molding and chandeliers, and converted the wood fireplace to gas, we kept the telephone niche in the hall. It's part of the original character of the house."
When it came time to paint the outside of the cottage, the Adcocks spent quite a bit of time considering their options.
"Carmen and I took a close look at the other homes on our street and we tried to choose a color that would add to the mood, but not duplicate anything," said Dale, who related that growing up in the Midwest meant your house was white or beige. "We decided to go very tropical, with rose for the house itself, white trim and grape accents. The front door is raspberry. We've painted our home twice over the decade, each time with the same colors."
Dale Adcock believes that the painted ladies are attracting Realtor attention and encouraging sales. "We're a downtown neighborhood that is continually getting better," he emphasized. "There is a lot going on here, even in a depressed market. These homes are historical, soundly built, and many people see tremendous opportunity to own, preserve and bring new life to these vintage properties."
The Adcocks like their rose cottage so much that they recently bought another home on Seventh Street that was in foreclosure. They painted the 750-square-foot cottage bright periwinkle and kept the metal roof. Fully refurbished, their periwinkle "painted lady" is a guest house for friends and relatives who the Adcocks.